<![endif]-->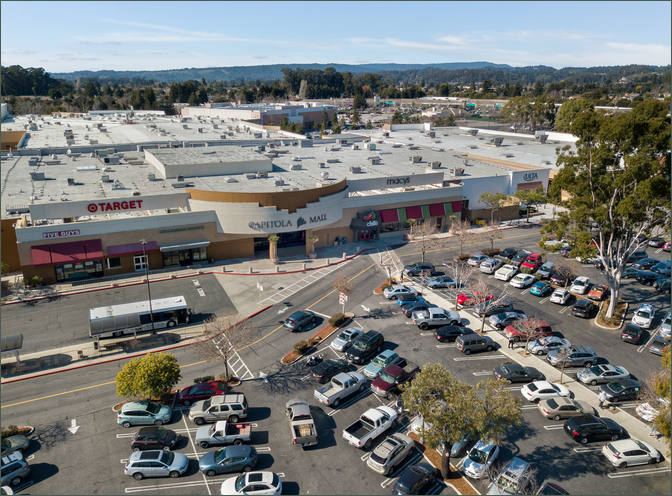 Capitola Mall
1855 41st Avenue


Capitola

, CA

95010



Benefits from its prime location on the most trafficked road in Santa Cruz County, 41st Avenue, attracting local and out of town visitors.
Stands out as the only enclosed shopping center in the county with the nearest competing center 30 miles away.
Draws from the neighboring city of Santa Cruz, home to UC-Santa Cruz with an enrollment of nearly 19,000.
Demographics
| | 1 mi. | 3 mi. | 5 mi. |
| --- | --- | --- | --- |
| Population | 22,103 | 74,779 | 128,356 |
| Daytime Population | 13,597 | 38,475 | 68,741 |
| Households | 9,090 | 31,366 | 52,007 |
| Avg HH Income ($) | 83,947 | 99,019 | 104,808 |
| Med HH Income ($) | 57,875 | 67,835 | 70,574 |
Highlights
For Lease
County: Santa Cruz
Total SF: 281,721
Parking Spaces: 2,958

Leasing Manager
Brett Christopoulos
Leasing Manager 425 California Street, 10th Floor
San Francisco, CA 94104
p. 415/675-7742

Printable Version
Flyer
Capitola Mall
Available Spaces
| | | | | |
| --- | --- | --- | --- | --- |
| A4 | 1,010 SF | | A5 | 395 SF |
| C6 | 816 SF | | D1b | 1,084 SF |
| E6 | 2,398 SF | | E14 | 324 SF |
| F2a | 857 SF | | G9 | 5,796 SF |
| J7 | 1,726 SF | | Ka | 140 SF |
| R4 | 1,805 SF | | R5 | 690 SF |
| R7 | 1,397 SF | | R8 | 778 SF |
| R9 | 593 SF | | R10 | 500 SF |
A1
SPCA
2,360 SF
A2
faust salon
1,198 SF
A3
Fashion Nail Spa
627 SF
B1
Claire's
1,248 SF
B2
As Seen On TV
1,014 SF
B3
GNC
990 SF
B4
EZ Tax
910 SF
C3
Beck's Shoes
1,930 SF
C4
Stern's Travel Shop
1,821 SF
C5
Santa Cruz Apparel
1,060 SF
C10
Santa Cruz Children's Museum of Discovery
8,281 SF
C11
Express
7,115 SF
C12
T-Mobile
1,200 SF
C14
Famous Footwear
7,341 SF
D1
Journeys
1,288 SF
D1a
Metro PCS
720 SF
D2
Best Buy Mobile
1,084 SF
D3
Kay Jewelers
1,380 SF
D4
Salt Tree
5,482 SF
D6
Victoria's Secret
5,600 SF
D7
VIP Massage
1,080 SF
D8
The Limited
8,366 SF
D100
Kohl's
75,000 SF
E1
Chili's Bar & Grill
5,503 SF
E4
Sherri's Cookies
712 SF
E5
Daniel's Jewelers
1,055 SF
E7
SKO Footwear and Accessories
2,180 SF
E8
AT&T
1,742 SF
E9
Christopher & Banks
3,200 SF
E10
Ulta
9,904 SF
F1
Starbucks
1,764 SF
F1a
Motherhood Maternity
1,055 SF
F2
Five Guys
2,314 SF
F3
Sports Fever
2,470 SF
F4
Don Roberto Jewelers
960 SF
F5
Bella's Bridal
3,165 SF
F8
Venatious
930 SF
F9
Matrix Santa Cruz
1,515 SF
F10
Bath & Body Works
2,830 SF
F11
Payless ShoeSource
2,943 SF
F12
Giggles N Wiggles
3,678 SF
G1
Aeoropostale
3,431 SF
G3
Gymboree
1,403 SF
G4
Sunglass Hut
640 SF
G4a
Lids
821 SF
G5
Bella Fruit & Drink
709 SF
G6
Pac Sun
2,908 SF
G7
Rue 21
4,788 SF
G8
Zumiez
2,754 SF
G11
LensCrafters
3,750 SF
H2
Legends Comics and Games
4,934 SF
H3
Steve's Hallmark
3,545 SF
H4
Justice
4,540 SF
H5
The Children's Place
3,950 SF
J1
Vans
3,104 SF
J2
Hot Topic
1,455 SF
J3
Super Silver Santa Cruz
1,140 SF
J5
Footlocker
4,080 SF
J6
Shiekh Shoes
1,921 SF
J8
Learn Discover
858 SF
J9
Capitola Police Community Center
387 SF
J10
Art In Santa Cruz
3,823 SF
Kb
Piercing Pagoda
160 SF
Kc
Fast Fix Jewelry & Watch Repair
150 SF
Kd
Diamond & Verizon Wireless
140 SF
Ke
Brow Art 23
140 SF
Non1
Target (N.A.P.)
Non2
Macy's (N.A.P.)
Non3
Sears (N.A.P.)
Non4
Ross Dress for Less (N.A.P.)
P1
Takara Japanese Restaurant
8,000 SF
R1
Sorabol
572 SF
R2
Hot Dog
420 SF
R3
Subway
394 SF
R6
Gyros & Grill Express
886 SF
R11
Wetzel's Pretzels
594 SF
Capitola Mall